Audience
Retailers
About Vue.ai
Vue.ai is an end-to-end retail automation platform that is trusted by over 100+ retailers across the globe, including Diesel, Nordstrom, Tata Cliq, Mercado Libre, ThredUp, Rent the Runway, and many more.
Vue.ai is redesigning the future of retail with Artificial Intelligence. Using Visual AI and ML algorithms, Vue.ai's suite of products addresses retail's biggest problems- from improving productivity to driving revenues.
Our AI platform is used for:
Automated catalog management
Automated image moderation (for marketplaces)
Automated on-model imagery
AI-enabled styling and outfitting
AI-enabled dynamic 1:1 personalization
Personalized shopper journeys
Pricing
Pricing Details:
Contact us for pricing details
Free Trial:
Free Trial available.
Integrations
API:
Yes, Vue.ai offers API access
See Integrations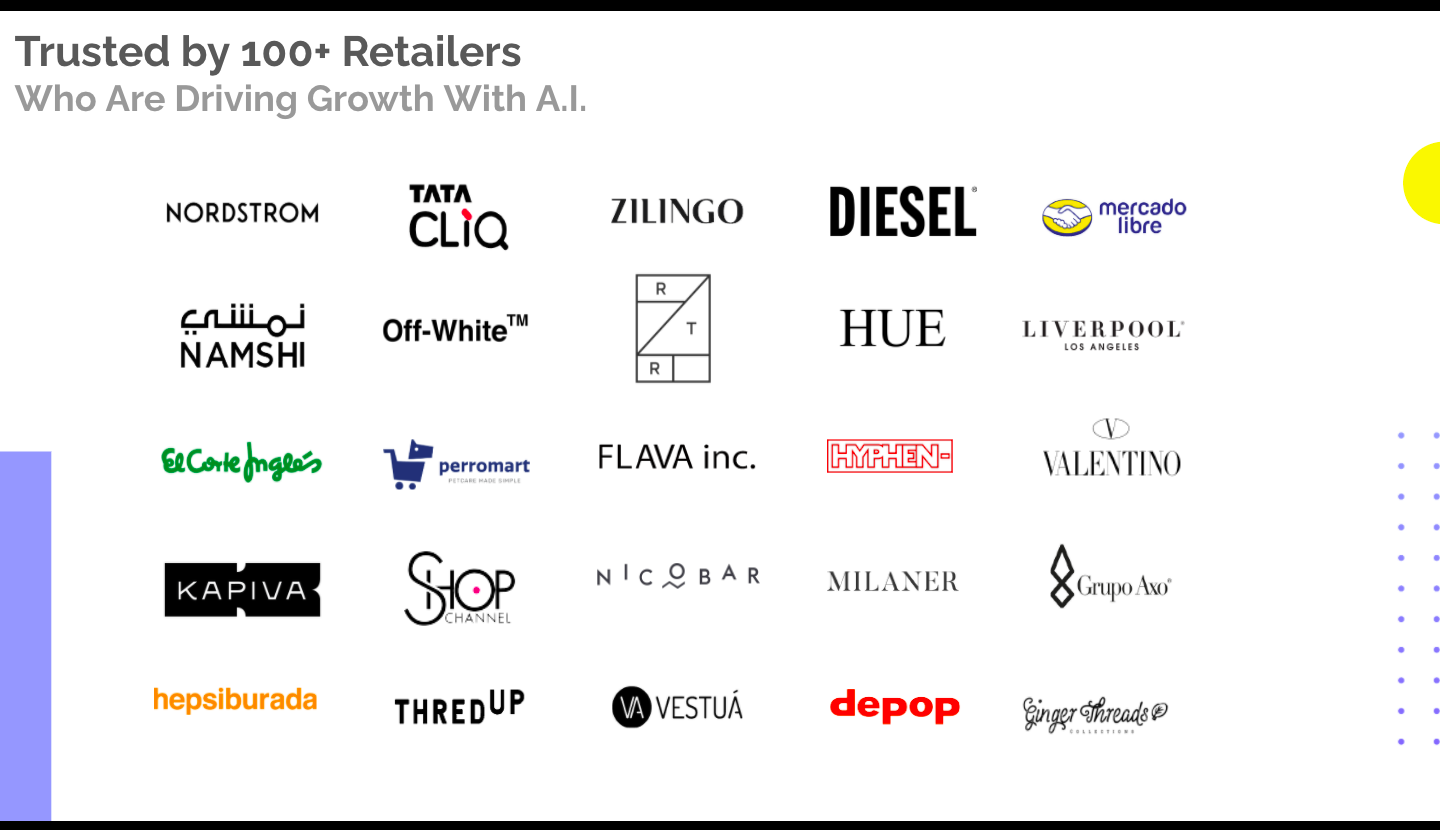 Vue.ai Frequently Asked Questions
Q: What kinds of users and organization types does Vue.ai work with?
Vue.ai works with these users and organization types: Mid Size Business, Small Business, Enterprise, and Government.
Q: What languages does Vue.ai support in their product?
Vue.ai supports these languages: English, Japanese, and Spanish.
Q: What kind of support options does Vue.ai offer?
Vue.ai offers support via business hours, 24/7 live support, and online.
Q: What other applications or services does Vue.ai integrate with?
Vue.ai integrates with: Magento and Shopify.
Q: Does Vue.ai have an API?
Yes, Vue.ai has an API.
Q: What type of training does Vue.ai provide?
Vue.ai provides training in the form of documentation, live online, webinars, and in person.
Q: Does Vue.ai offer a free trial?
Yes, Vue.ai offers a free trial.
Q: What pricing for support is available for Vue.ai?
Vue.ai offers support included with purchase.