Audience
Sales Operations, Sales Leaders, B2B Sales Organizations
About SalesDirector.ai
SalesDirector.ai is a revenue data platform that helps B2B sales organizations scale by capturing and delivering intelligent sales data and analytics to the entire revenue stack.
We capture email and calendar data from sales rep activity and cross-reference it with CRM data to deliver predictive insights about their pipelines, behavior and customer interactions. These insights are delivered directly to their CRM or can be visualized in their favorite BI tool (such as Tableau, Domo, Google Data Studio, Power BI or even Einstein Analytics). Armed with these predictive insights, sales organizations can accelerate and optimize their opportunity pipelines, increase their win-rates and power their entire revenue stack with reliable, intelligent sales data. SalesDirector.ai is used by leading companies like MongoDB, JD Power, Digital Map, Wicresoft and DeltaData.
Pricing
Starting Price:
$29.00/month/user
Pricing Details:
Annual Platform Fees apply for Sales, Marketing and Customer Success Modules.
Free Trial:
Free Trial available.
Integrations
See Integrations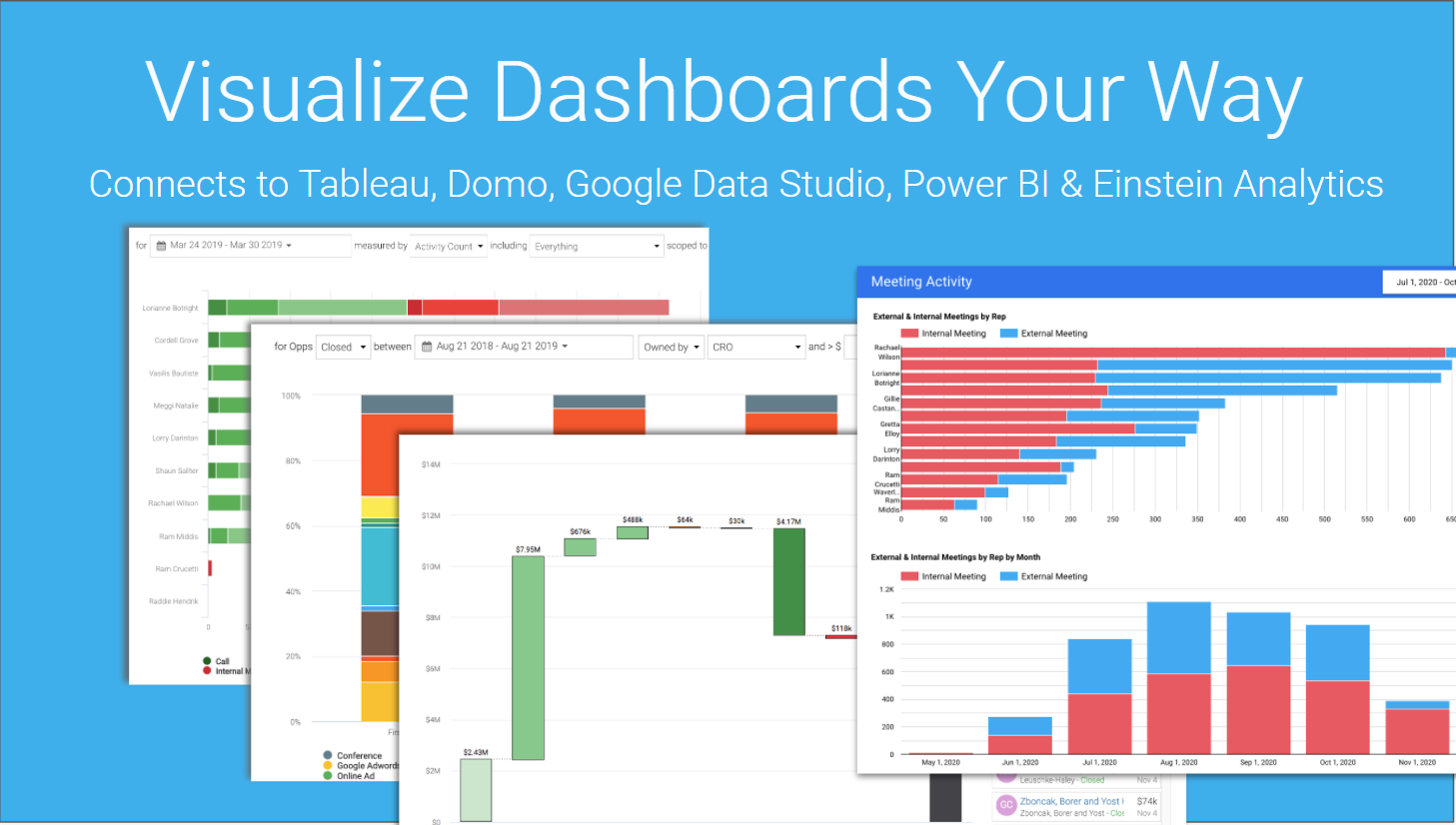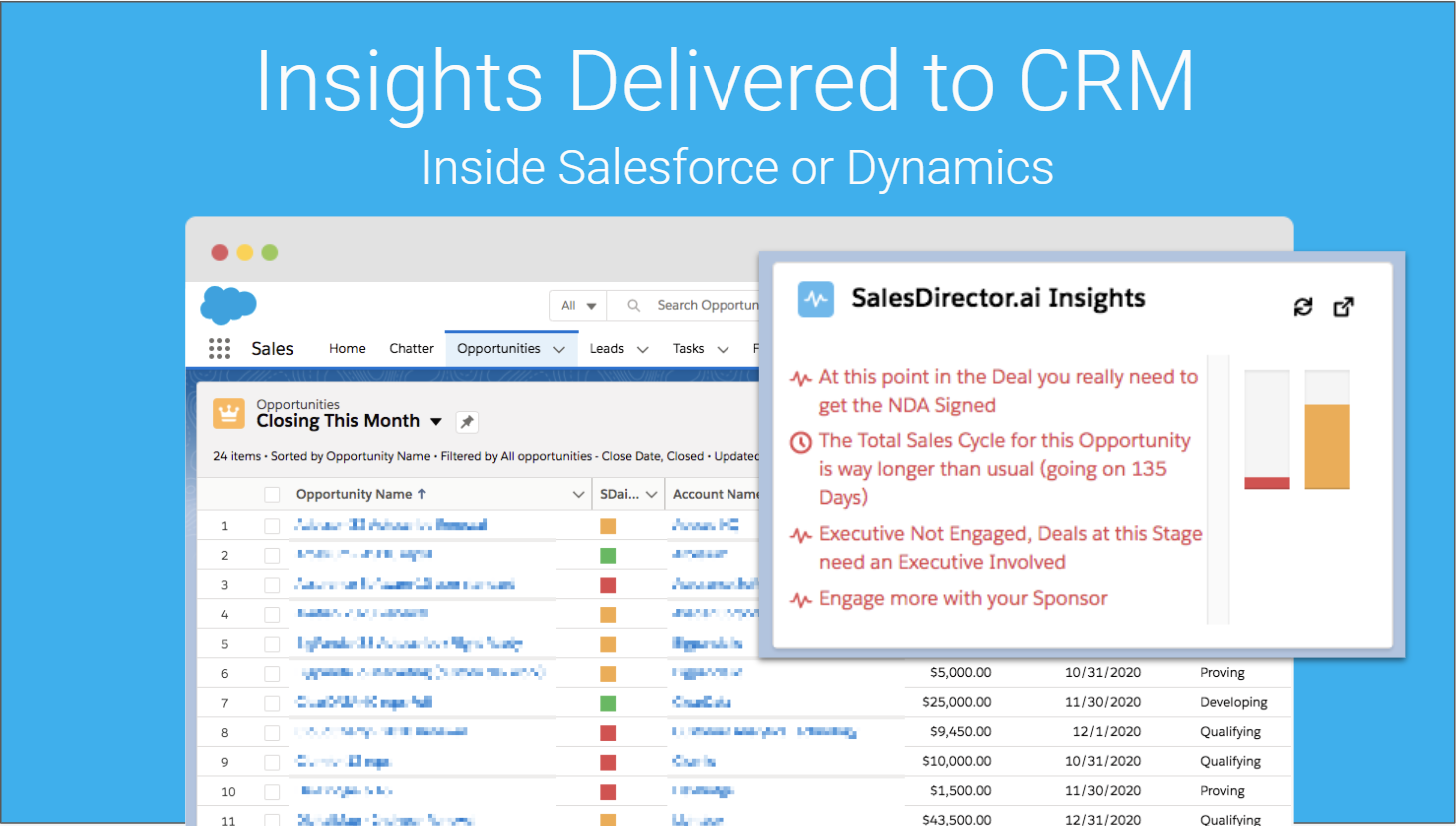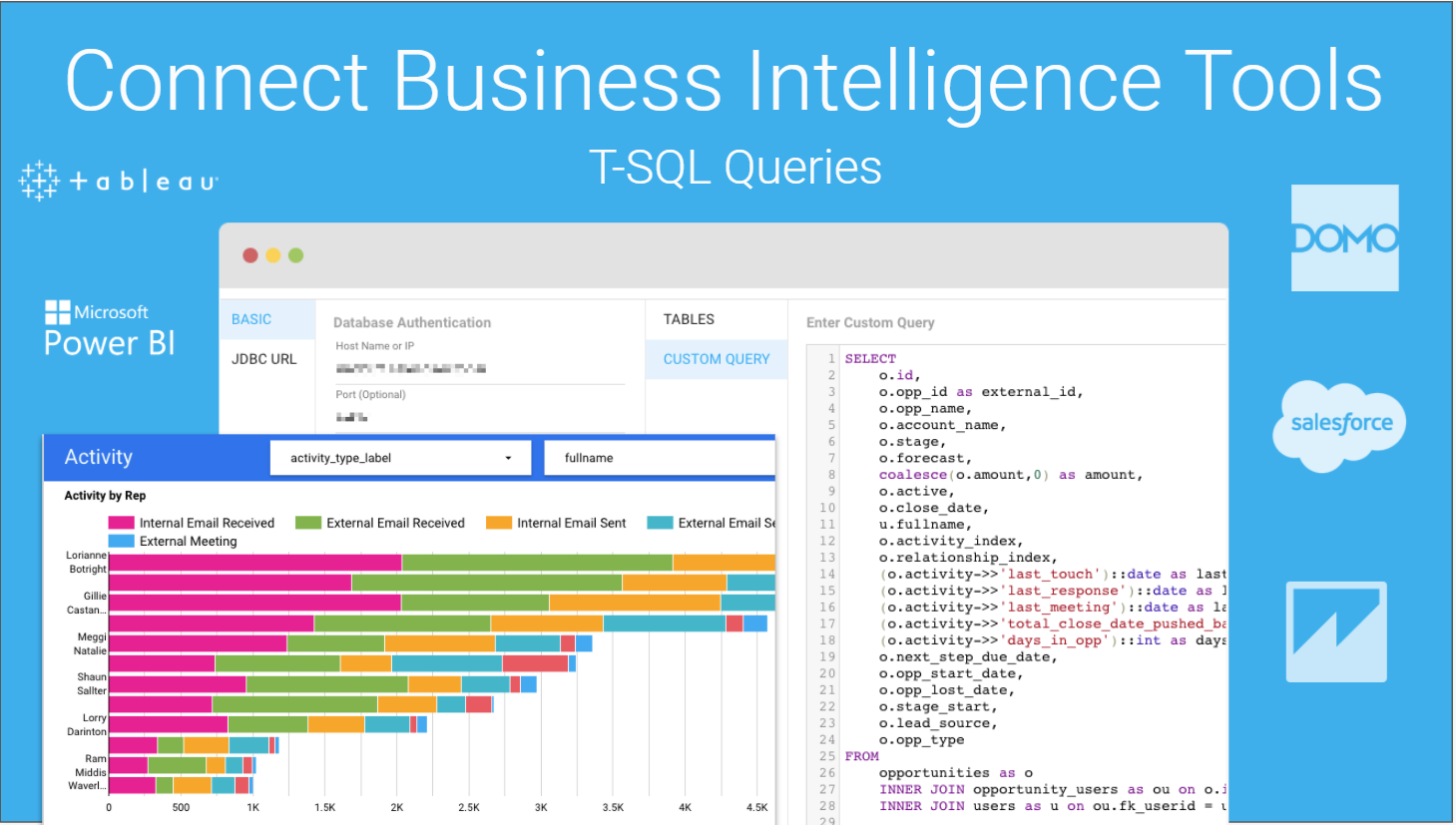 SalesDirector.ai Frequently Asked Questions
Q: What kinds of users and organization types does SalesDirector.ai work with?
SalesDirector.ai works with these users and organization types: Mid Size Business, Small Business, Enterprise, Freelance, Nonprofit, and Government.
Q: What languages does SalesDirector.ai support in their product?
SalesDirector.ai supports these languages: English.
Q: What kind of support options does SalesDirector.ai offer?
SalesDirector.ai offers support via business hours.
Q: What other applications or services does SalesDirector.ai integrate with?
SalesDirector.ai integrates with: ClearSlide, Domo, Tableau CRM, Google Workspace, Gmail, Google Data Studio, LinkedIn, Microsoft Exchange, Microsoft Outlook, NetSuite, Microsoft 365, Pardot, Salesforce, Tableau, and Zendesk.
Q: What type of training does SalesDirector.ai provide?
SalesDirector.ai provides training in the form of documentation, live online, webinars, and in person.
Q: Does SalesDirector.ai offer a free trial?
Yes, SalesDirector.ai offers a free trial.
Q: How much does SalesDirector.ai cost?
Pricing for SalesDirector.ai starts at $29.00/month/user.