Free music file converter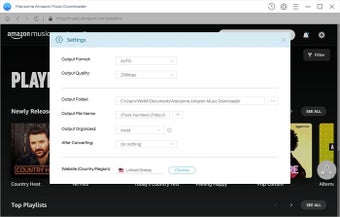 1/4
Macsome Amazon Music Downloader is software that will convert your audio files into a nearly universal format that can be used with MP3 players, iPhones, PS5s or other devices. The program is safe to use and comes with free technical support. This software is available for Mac as well as Windows.
Many people have come to the realisation that they're using three or four different music services. If you've purchased music from different services, it can be bothersome that all of your music isn't in one place. Users can get a stable version of Macsome Music Downloader for free. This program serves a similar function to both the Macsome Tidal and Spotify Downloader.
ID3
Converting or transferring audio files can present users with several difficulties. For example, converted files may not keep all their attached information and tags.
Tags such as artist, song or album can be lost without using the right program to protect this information. This is considered to be ID3 data. With this program, luckily it's not a problem you'll face. Audio files will keep their ID3 tags even after they're converted.
Music on the go
It can be really bothersome if you really want to make the ultimate playlist, but all the music you like isn't available on one platform. One solution is to convert your files to one easy-to-use format that can be listened to across apps. Macsome can convert Amazon music to be used on iTunes and other music platforms of your choice.
Other formats
Macsome Amazon Music Downloader helps users download files from Amazon both Music Unlimited and Prime Music. Another feature of this software is that it can work with more than just MP3s. It also converts playlists and podcasts to AAC, FLAC, AIFF and WAV files. Moreover, this program converts at a high level of quality while also being easy to use.
Download music easily
Macsome Amazon Music Downloader is a powerful tool that the average person can use to download music, transfer it and convert their existing music library. As an added bonus, the program is free to download and use.